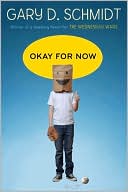 Gary Schmidt is an amazing author.
His books are thoughtful, sensitive, and full of "lump-in-your-throat" scenes, without being preachy or boring.
His books are not written with the breathless pace found in many modern books for middle-school and young adult readers, but they have more than enough plot to keep readers involved.
In Schmidt's newest title,
Okay for Now
, Doug Swieteck, a character from
The Wednesday Wars
, takes center stage.
Holling Hoodhood has a sweet cameo, but this story is all Doug's.
In the late 1960s, Doug's father, always prickly and often abusive, has lost his job and the family has to move.
Doug is not excited about starting eighth grade in his new home.
He thinks the small town has nothing to offer until he meets Lil, and through her, makes an important discovery.
The local public library has a folio of original John James Audubon drawings of birds.
Noting his interest, one of the librarians gives Doug basic art lessons based on Audubon's works.
The framing device of the birds carries through the novel, adding an element of mystery and beauty to the narrative.
Each chapter begins with an Audubon plate illustration, and the birds depicted hold special meaning to that section of the story.
The visual and written artistry combine to take the book well beyond the ordinary.
Schmidt is at his best in describing Doug's relationships with Lil, his brothers, his mother, his teachers, and the townspeople he meets on his grocery delivery route.
Each unusual character is meticulously drawn.
In this rich tapestry of relationships, the only small disappointment is in the character of Doug's father.
The whole family is impacted by the return of the oldest son from Vietnam, but beyond that situation, Mr. Swieteck's motivations are unexplained.
Doug seems to understand more about his father's choices, but to the reader he remains somewhat of an enigma.
The title implies impermanence, rebirth, and change, themes which carry through the book.
Doug's growth is expressed through ideas about the power of art, especially painting, drawing, theatre, and literature.
This beautiful, satisfying story is a fitting companion to the Newbery Honor-winning
Wednesday Wars
—Lucinda Whitehurst.
(Historical Fiction, gr. 5 and up; Houghton Mifflin, 2011)