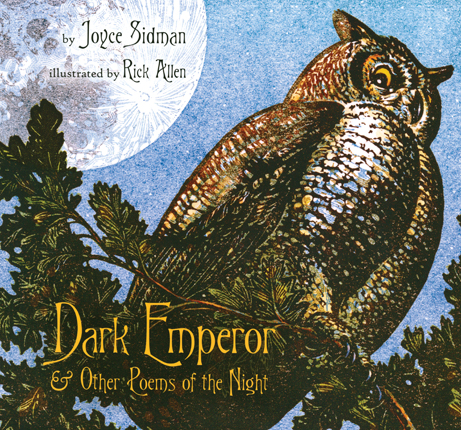 April is National Poetry Month. For the last few days of celebration, consider reading
Dark Emperor and Other Poems of the Night
by Joyce Sidman. The 2011 Newbery Honor book is filled with beautiful poetry and marvelous scientific information about the natural world at night.
It is a rich combination of literature, art and factual observation which will be a fine addition to school and classroom libraries as well as a great read-aloud picture book for use at home.
It is appropriate for all ages.
Even the scientific information, when read aloud to a young child, will hold the interest and help with concept building.
The art, created by a process of relief printing, invites close inspection and offers new discoveries with every look.
I highly recommend this lovely book and commend the Newbery Committee for thinking slightly outside the box in their selection--Wilma Snyder.
(Illustrated by Rick Allen; Houghton Mifflin, 2010)
Also consider:
Emma Dilemma
by Kristine O'Connell George
(Illustrated by Nancy Carpenter; Clarion, 2011)
Give Me Wings
selected by Lee Bennett Hopkins
(Illustrated by Ponder Goembel; Holiday House, 2010)
Amazing Faces
selected by Lee Bennett Hopkins
(Illustrated by Chris Soentpiet; Lee & Low, 2010)
Switching on the Moon
collected by Jane Yolen and Andrew Fusek Peters
(Illustrated by G. Brian Karas; Candlewick, 2010)