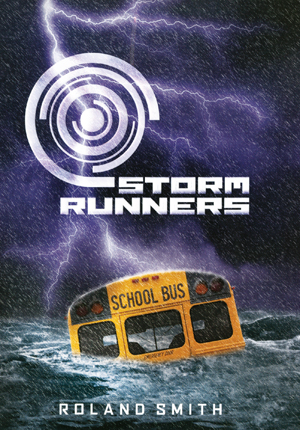 Storm Runners, the first book in a new series by Roland Smith, tells the story of Chase Masters and his father John.

Following a series of traumatic events—the deaths of his wife and daughter; being struck by lightning, then waking from a coma—John Masters decides to pack up Chase and his work tools and hit the road.

Father, son, and their trusted friend Tomas become M. D. Emergency Services.

They follow the weather.

Wherever a big storm hits, M. D. follows to help repair the damage.

These "masters of disaster" think they are prepared for anything, until they encounter Hurricane Emily.

Chase's father has trained him well, but will it be enough to survive the storm?
Roland Smith loves to cross the United States in his RV, accompanied by his delightful wife and fellow author Marie.

When he came to Richmond for a visit to St. Christopher's school several years ago, I went to a campground in nearby Hanover to pick him up.

Roland told me how much he enjoyed travelling in the RV and meeting new people in the parks.

Richmond had been hit by hurricane a few weeks before Roland's visit.

He explained that several of the people in the campground were itinerant workers, skilled repairmen who followed the storms in order to find work.

When I started reading Storm Runners, I had to wonder if any of the people Roland met in Richmond helped him form the characters of John and Tomas.
With plenty of threatening storm action, two important girl characters, and a subplot about circus animals and a family of little people, Storm Runners has enough action to keep boys, girls, and reluctant readers engaged in the story.

The cliffhanger ending makes me wish that book two would be out sooner than September!—Lucinda Whitehurst.

(Scholastic, 2011; Fiction, gr. 4-7)