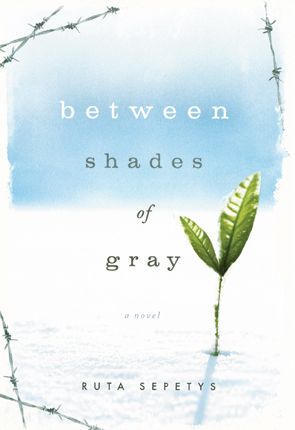 What was going on in Lithuania during World War II? Not sure? Before reading
Between Shades of Gray
, neither was I. Children's literature includes many important books about World War II and the Holocaust but most well-known titles recount the experience in countries such as Germany, Poland, France, and England. The daughter of a Lithuanian refugee, Ruta Sepetys makes an important contribution to the field with her first novel.
While American readers are accustomed to viewing the Soviet Union as an ally against Hitler in World War II, the situation was somewhat different in Lithuania, Estonia, and Latvia. Annexed by the Soviet Union in 1940, those countries ceased to exist as independent nations until 1990. In order to secure their hold, when the Soviets came to power they deported many political and intellectual leaders. Fifteen-year-old Lina's father is a university professor, which puts him under immediate suspicion. Still, Lina is shocked when her father disappears and she, her mother, and her younger brother are picked up by soldiers and put on a transport to Siberia.
The harshness of the journey only becomes worse when they reach their destination. The fact that anyone survived the Siberian work camps is surprising. While the annihilation was not as immediate or systematic as Hitler's, the result was chillingly similar. Sepetys vividly conveys Lina's quick maturation. Lina is not a saint, but she becomes a leader simply because she has no other choice.
In an author's note, Sepetys explains that "those who survived spent ten to fifteen years in Siberia. Upon returning in the mid-1950s, the Lithuanians found that Soviets had occupied their homes, were enjoying all of their belongings, and had even assumed their names. Everything was lost. The returning deportees were treated as criminals…Speaking about their experience meant immediate imprisonment or deportations back to Siberia. As a result, the horrors they endured went dormant, a hideous secret shared by millions of people." Sepetys deserves great praise for giving voice to people silenced so long. For more information, go to
www.rutasepetys.com
—Lucinda Whitehurst. (Historical fiction, gr. 7 and up; Philomel, 2011)