2010 was a good year for worthy and well-done books about the American Revolution written for young readers.
Both fiction and nonfiction books are immensely authentic and meticulously researched, especially as we compare them with some of the formulaic writing which has been done in the past.
Our children and youth deserve the very best in writing.
Really good books on history are powerful in their ability to lead young readers into a lifelong interest in history and in the heroic figures whose stories are told in the books—Wilma Snyder.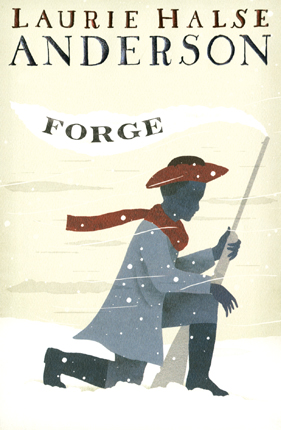 Forge
by Laurie Halse Anderson
This novel is the sequel to the National Book Award Finalist
Chains,
published in 2008.
Chains
ends as the young slave girl, Isabel, rescues her friend, Curzon, from prison and certain death.
In
Forge
, the action resumes some months later when we learn that Isabel and Curzon have parted ways.
Their basic disagreement is over who is to be in control of their mission.
The story is subsequently told from Curzon's point of view.
Curzon finds himself as a part of
Washington
's army during its encampment at
Valley Forge
.
The reader is immersed in the people, the sounds, the smells, the intrigues which made the winter of 1777-78 such a crucial period in the Revolutionary War.
I look forward to the next volume,
Ashes
.
(Historical fiction, gr. 5-8: Atheneum/Simon & Schuster, 2010)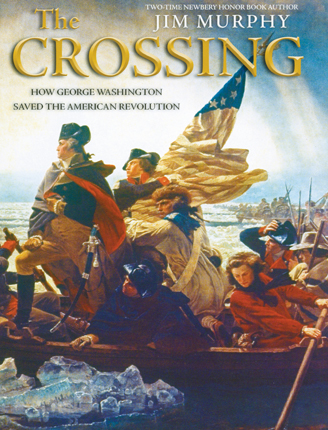 The Crossing:

How George Washington Saved the American Revolution

by Jim Murphy
The crossing refers, of course, to the dramatic crossing of the Delaware River to Trenton, New Jersey, where Washington won a pivotal battle in the war.
The great strength of Murphy's book is in the clear depiction of George Washington from gentleman farmer to brilliant general.
Useful, as well, is his discussion of the art and story which helped to present Washington as a mythic hero.
(Nonfiction, gr. 4-6; Scholastic, 2010)
George Washington's Spy
by Elvira Woodruff
This time travel adventure story sweeps seven children back in time to Boston in 1776.
The boys become separated from the girls resulting in the boys landing in a hotbed of a rebel spy ring while the girls take refuge in a family of British sympathizers.
Before the two stories merge, the children learn about colonial medicine, meet Benjamin Franklin, become a part of the spy ring and are almost taken off to
England
.
Action-packed pages and lively writing will make this a favorite of young readers. Sequel to
George Washington's Socks.
(Historical fiction, gr. 3-5; Scholastic, 2010)
More suggestions:
Lafayette and the American Revolution by Russell Freedman
(Nonfiction, gr. 5-8; Holiday House, 2010)
Henry Knox:

Bookseller, Soldier, Patriot

by Anita Silvey and illustrated by Wendell Minor
(Nonfiction picture book, gr. 2-5; Clarion/Houghton Mifflin, 2010)
Phillis Sings Out Freedom by Ann Malaspina and illustrated by Susan Keeter
(Historical fiction picture book, gr. 1-3; Whitman, 2010)
A Picture Book of John and Abigail Adams by David A. and Michael S. Adler and illustrated by Ronald Himler
(Biography picture book, gr. 1-3; Holiday House, 2010)