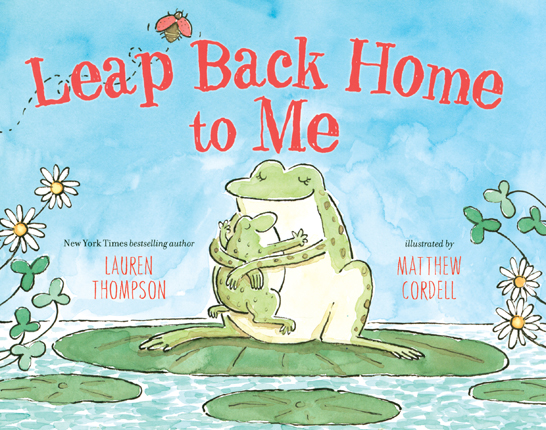 Leap Back Home to Me

, in sprightly rhyming text, features a young frog exploring the world for the first time.

He begins with safe things like leaping over a ladybug or a bee.

Each adventure ends with his mother saying, "Then leap back home to me."

(Written by Lauren Thompson; illustrated by Matthew Cordell;

Simon & Schuster,

2011)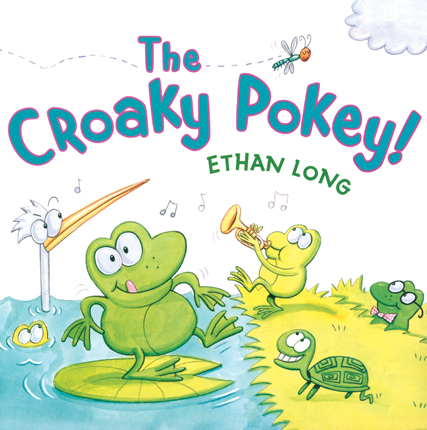 The Hokey Pokey is a favorite children's singing game which is enjoyed as much today as it was two generations ago.
Actually, the origins of this game go back much farther.
The oldest known version is "Hinkum-Booby" which appeared in a collection of Scottish rhymes in 1842.
The oldest known American printed version appeared in a collection of American games and songs in 1883.
The Croaky Pokey!
is based on these earlier versions.
Frogs sing the Croaky Pokey, playing instruments and chasing flies with those amazing froggy tongues.
The unlikely lyrics and funny pictures will provide endless amusement.
(Written and illustrated by Ethan Long; Holiday House, 2011)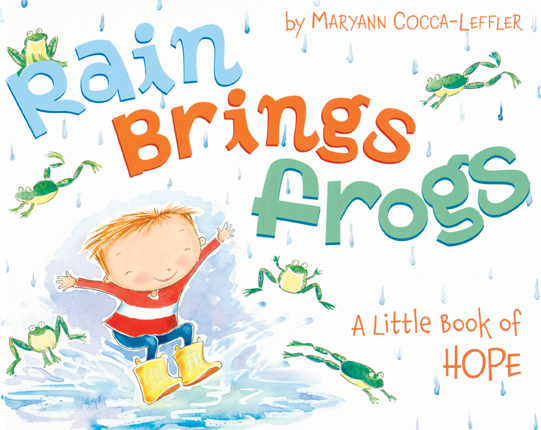 Rain Brings Frogs

reminds us that we have a choice:

look on the dark side or look on the bright side.

Be a complainer or be happy.

Always want more or be grateful for what you have. Nate always looks on the bright side.

When Mom says, "I hate rain."

Nate says, "Rain brings frogs."

This picture book with its simple text and colorful illustrations teaches a gentle lesson that many children and adults need to hear.

(Written and illustrated by

Maryann Cocca-Leffler; HarperCollins,

2011)

--Wilma Snyder.